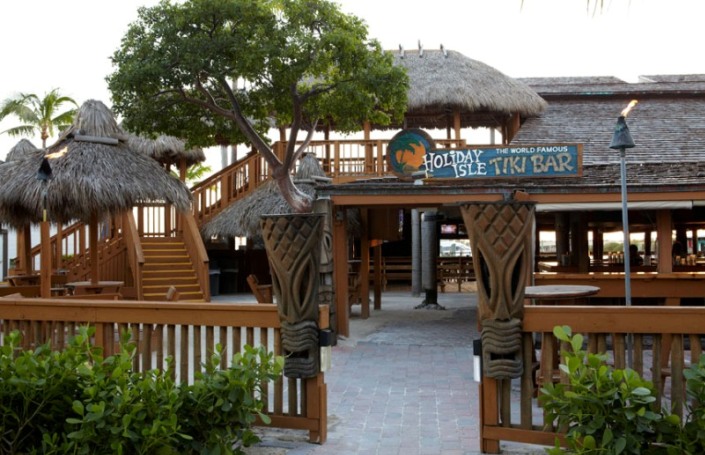 For a true Florida Keys resort experience, spend some time at the vibrant and unique Holiday Isle Tiki Bar. In 1969 this open air bar located at the edge of the property's marina began serving up cocktails under the original name of The Hapi Hula Hut. It was not until 1971 that this property was officially known as the Tiki Bar.
Introducing the World Famous Holiday Isle Resort Tiki Bar
In 1972 the hotel's owner dared the Tiki Bar manager, so perfectly nicknamed "Tiki John", that he could not make a drink out of the overstock of liquor that was in the storeroom. With Banana Liqeure, Meyers Rum, Brandy and Grenadine, what more could a guy do then to make the original Rum Runner Cocktail? The concoction became so popular a statue was resurrected in its honor and has become a photo op of generations.
Over the years this establishment has housed the first End of Season Bartender's Bash and served libations to Actors such as Gary Busey, Don Johnson, Susan Sarandon, Jeff Daniels and many more. After a long day of fishing, celebration or working as a local, this historic establishment provided a haven for good times and good friends. So come one, come all and belly up to the bar to hear more stories, experience the history and create your own memories! You never know who you might run into.
This hot spot is open at noon on Monday through Friday and at 11AM on weekends. Rock out with live entertainment on Friday and Saturday nights, 8PM until 1AM.