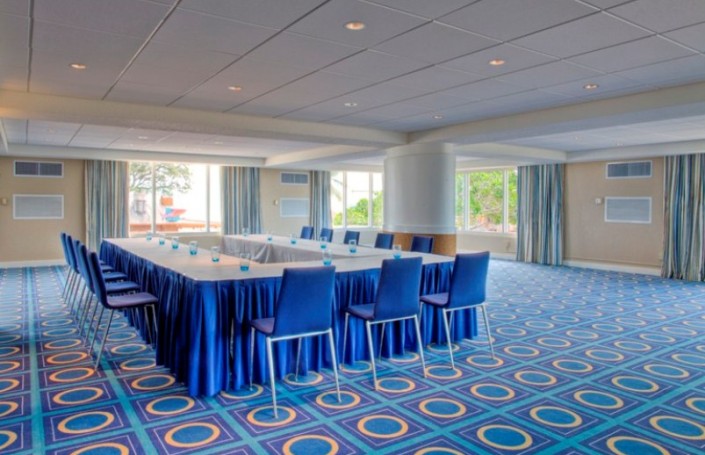 At Postcard Inn Beach Resort and Marina, we don't believe in stuffy business meetings or uninspiring corporate events. At our Islamorada resort, enjoy a Caribbean environment where there is NO passports needed and not too far from home aAA€" but far enough away that the sun always shines, the water is always clear, and the seafood is always fresh.
Host your Florida Keys meeting at Postcard Inn Beach Resort and Marina, the resort with a Caribbean feel to which you can drive.
We believe in holding conferences oceanfront for you to, enjoying breakfasts in the company of spectacular light blue and green waters, dining on fresh seafood with our toes in the sand, and spending our free time snorkeling, diving, boating, jet skiing, paddle boarding and fishing, relaxing at the pool and taking kayak excursions to remote areas of the Florida Keys.
We believe in offering a unique Florida Keys meeting experience that your group will be excited to attend, and they will feel rejuvenated when they leave. And we believe in getting down to business, providing state-of-the-art indoor and outdoor Florida Keys conference venues, as well as an expert sales and event staff dedicated to making every detail of your event a success.
Local Attractions:
Islamorada offers some of the top attractions for your group to visit like Theater of the Sea, with a swim with the dolphins program for your group to enjoy just feet away from the resort. Let your group explore great history of the Florida Keys at the History of Diving Museum. Islamorada also offers so of the top artists in Florida with an increasable art walk are in the village. These are just a few of the many great local attractions for groups.
Activities and Team Building:
If you are interested in team buildings try our more than 21 Charter Captains (offshore and Back Country available onsite at our resort marina just feet from your room). The resort also offers boat rental, snorkel and dive shop with daily trips, and a full verity of water sports including, kayaks, paddle board, and jet skis all onsite.
How about a dine around for your group? Islamorada offers over 24 great restaurants in a 4 mile radius from 3 Star to 5 Star our island has it all.
How To Get Here:
The resort is located at Mile Marker 84 half way between Key West and the mainland. Just an hour and a half from Miami or 2 hours from Fort Lauderdale. Rent a convertible and hit the road for one on the most scenic drives Florida has to offer. If you need group transportation let our sales office arrange it with one our reliable transportation companies. Daily shuttle can also be arranged with Keys Shuttle.
Wish You Were Here!! With Us!
Meeting Special Currently Offered:
Group room rates (Sunday through Thursday) starting at:
$119.00 per room, per night for King or Classic 2 Queen Rooms, and balcony.
$169.00 per room, per night for Oceanfront King or 2 Queen Rooms, and balcony.
$249.00 per suite per night for Oceanfront king suite with living room and balcony
10 or more rooms, per night. Must be booked by June 30, 2013 and consumed by December 31, 2013.
Free meeting space with 10 or more rooms actualized
Free Wi-Fi in meeting room with 10 or more rooms actualized
With a purchase of $10,000.00 or more on master account receive a voucher good for 400 dollars that can be used towards a Sunset Cruise, Jet Ski Rentals, Fishing Charter or Snorkeling trip.
Terms and Conditions
Excludes taxes and gratuities. Minimum $10,000 purchase on master account. Must be booked by June 30, 2013 and consumed by December 31, 2013. Limited number of rooms are available for this promotion. Offer cannot be combined with any other promotions. Blackout dates may apply. Advance reservations required. Other restrictions apply. Rates are per room, per night and based on availability at the time of reservations. Cannot be combined with groups already reserved.
The resort is located just two hours from Fort Lauderdale and an hour and a half from Miami. The resort can accommodate groups from 10 to 150.