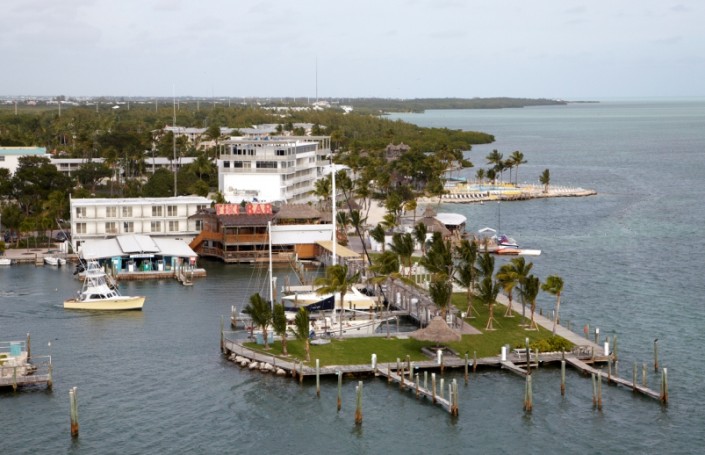 Postcard Inn Beach Resort and Marina offers a tropical setting where you can relax, enjoy each other's company, and create memories that will be shared for a lifetime. You can spend the boating in some of the ocean Florida has to offer! After a day on the water your group can enjoy 12 acres of beach and a great Oceanside pool. Boaters can tie up at Postcard Inn Marina and share a few drinks at the World Famous Tiki Bar and laughs with fellow fishermen.
Host your next boating group at our Islamorada Marina
Bring your boating buddies together for an unforgettable gathering at Postcard Inn Beach Resort and Marina. Our iconic Islamorada Florida Keys hotel offers the retro, throwback feel, yet our easy-to-reach Florida Keys resort is ideal for fishing groups or any other excuse you can think up in paradise!
19 transient slips with accommodations for vessels up to 100 feet are available at rates of $3.00 per foot (25' minimum). This includes water, electric, cable, shower, coin laundry, and access to resort amenities. Fuel up by stopping by the Chevron fuel dock for 90 octane gasoline and H.S. diesel. For additional Boater's Information including Latitude and Longitude, channel access, click here Islamorada Marina. The resort also offers a boat ramp at the marina and trailer parking.
If you are interested in fishing try our more than 21 Charter Captains (offshore and Back Country available onsite at our resort marina just feet from your room). The resort also offers boat rental, snorkel and dive shop with daily trips, and a full verity of water sports including, kayaks, paddle board, and jet skis all onsite
The resort offers a great beach pavilion for the resort to cater your whole group or try breath taking views from our Horizon Room! How about our newest restaurant Shula Burger which is sure to fit your budget. Islamorada also offers over 24 great restaurants in a 4 mile radius from 3 Star to 5 Star our island has it all.
How To Get Here:
The resort is located at Mile Marker 84 half way between Key West and the mainland. Just an hour and a half from Miami or two hours from Fort Lauderdale. Take Florida Turnpike South until is ends and keep heading south on Overseas Highway and the resort is located Oceanside.
Wish You Were Here!! With Us Boating!