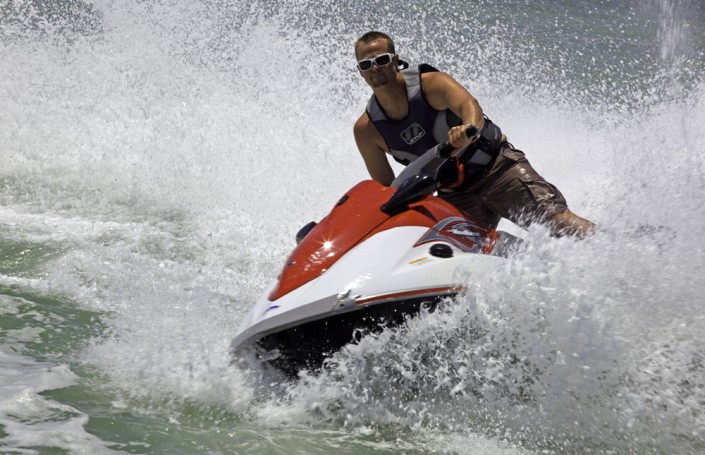 If relaxing in the sun with a cocktail in your hand does not fulfill your adventurous desires, then check out the amazing Islamorada water sport options at Postcard Inn Beach Resort and Marina at Holiday Isle!
Islamorada Water Sports PCI Florida Keys Resort Watersports!
The amateur to the experienced can take advantage of jet ski, kayak, paddle boarding, and kite boarding rentals and lessons. Hourly rates allow you to choose just how ambitious you want to be on the water.
Call PCI's water sports desk at 305- 664- 0075 today for pricing or questions!
Paddleboarding at Postcard Inn Holiday Isle
Postcard Inn Beach Resort and Marina includes paddleboards in the resort fee. If you are interested in a more extensive paddleboard adventure give Aquaholic Adventures a call. Paddle Boarding offers an amazing full body workout and is becoming a favorite cross-training activity for skiers, snowboarders and other athletes. Enjoy excellent views of everything from sea creatures to what's on the horizon. Walk on water!
Aquaholics instructor, Jen, is a WPA certified instructor and Paddle Fit level 2 Certified Paddle fitness instructor. Having lived in the Florida Keys for over 11 years, her knowledge and expertise of the surrounding areas cannot be matched!
Aquaholic Adventures offers paddleboard, kayak tours, lessons, fitness classes, sunset tours and night tours on lighted paddleboards and kayaks!
Call today 305-330-9874
At Islamorada Dive Center at PCI we are a full service PADI dive resort offering guided scuba diving trips daily, scuba instruction and private charters.
Whether you are looking for wrecks or reefs, we offer both in what is known as one of the top dive destinations in the world. Trips depart daily at 8:30 a.m. and 1:00 p.m. Your IDC experience begins the minute you walk into our doors where friendly and helpful staff members greet you and offer concierge service. While you are browsing through the shop or enjoying the scenery at Postcard Inn, we will be handling all of your gear needs. You'll find your gear setup and ready for you the boat and switched over between trips. Upon return, your gear will be rinsed and hung for you. For your convenience, we also offer secure overnight storage for those guests diving with IDC multiple days or who simply wish to let their gear dry.
Your concierge IDC service extends beneath the surface of the water as well. We offer free guides on each trip. Our dive masters are local wreck and reef experts who will take you on a guided dive highlighting all that the site has to offer while ensuring your safety and comfort. Our goal is to take all of the work out of diving for you so that you can relax and enjoy your IDC experience. After diving with us, we feel confident that you'll be ready to join the Islamorada Dive Center family and make IDC your home dive shop when in the Keys.
Website: http://www.islamoradadivecenter.com/ Call us at: 305.664. 3483
DIVE AND STAY PACKAGE EXAMPLES:
•Three nights/two dive trips for $412 per person (non-diver $240.00)
•Four nights/three dive trips for $552 per person (non-diver $311.00)
•Seven nights/six dive trips for $944 per person (non-diver $524.00)
Price is per person, tax included, and is based on double occupancy in a standard room. Packages include accommodations, diving, tanks and weights, sales and lodging tax. All resort amenities included. Room upgrades are available at an additional fee. Night dives can be included in package; an additional dive trip can be added for only $70/trip plus taxes. Advance reservations required with full payment in advance. Deposits are non-refundable, as are reservations cancelled less than thirty (30) days before arrival date. No refunds for unused portion of package. Want to know more click on our link:http://islamoradadivecenter.com/dive-stay.html.
Snorkel Trips, Sunset Tours and Eco-Tours at Postcard Inn Holiday Isle
Islamorada Boat Tours catamaran, "Mattie Sue" is a brand new coast guard inspected vessel that can accommodate up to 49 passengers. They offer a variety of activities including Snorkel trips, Eco Tours, Sunset cruises, as well as a number of special events throughout the year. Their number one focus is to entertain and educate about our natural marine environment.
Their snorkeling trips offer all equipment included in the price as well as a short 15 minute ride to the reef. Trips are 2 1/2 hours long to maximize the amount of time guests spend in the water. Postcard Inn guests receive a special of 10% off provided they show a room key. Guests can bring food or drinks of their choice as well.
The sunset cruise is a 1.5 hour long calm water boat ride where guests receive 1 complimentary rum punch or champagne drink and some local knowledge about the marine environments we pass along the way. It ends on the bayside so guests can watch the sun set into the water and not over land.
The eco tour will go once a week to Indian Key State Park and allow guests up to 45 minutes on the island.
Contact Islamorada Boat Tours for more information at 877-904-8865.
"Mattie Sue" holds 49 passengers also for Wedding Ceremonies, School Trips, Corporate Events, and Birthday Parties etc…. For more information contact sales@holidayisle.com or 800-327-7070.
Islamorada Jet Ski Adventures with Spray Watersports
Spray Watersports offers Jet Ski Tours and Rentals here at Postcard Inn at Holiday Isle. They offer rentals by the hour as well as a guided tour of the area by water. The BEST way to see Islamorada! Call 305-664-0075 for more information.
Islamorada Boat Rentals at PCI Holiday Isle Marina
How about exploring the Florida Keys on your very own boat? Our Florida Keys resort's boat rental shop offers boats from 19 feet to 21 feet for your to enjoy. Reasonably priced for the budget-minded adventurer. www.boatrentalsinthekeys.com
Call 305-664-0091
Jet Pack Adventures at PCI Holiday Isle with Tiki Jet
The most exciting watersports activity in the Florida Keys in now in Islamorada! With Tiki Jet, anyone can experience the thrill of flying the Jetlev, the world's first water powered jetpack! The jetpack system is amazingly easy to fly with almost no physical effort required from the pilot. In fact, most first time pilots are flying in approximately 3 minutes thanks to our highly specialized training system!
Website: http://tikijet.com/
Phone number: (305) 814-0769