Islamorada is well known as the sport fishing capital of the world. Steps away from the hotel, is the famous fishing fleet of Holiday Isle. No other Florida Upper Keys resort can offer such a luxury. Islamorada Florida Keys fishing charters at the resort are just 2 hours from Fort Lauderdale and an hour from Miami.
Postcard Inn Beach Resort and Marina at Holiday Isle allows you to live out your angling dreams with our Islamorada fishing tours! Try both offshore and backcountry fishing with our Florida Keys fishing charter boats and accomplished fishing captains. Offshore boats can accommodate 4 to 6 guests and backcountry boats have room for 2 to 4 guests. Pricing ranges from $450 to $1,600 per trip. Be sure to note your best catch of the day on the resort lobby's chalkboard!
Welcome to The Sportfish Capital of the World
Backcountry Captains: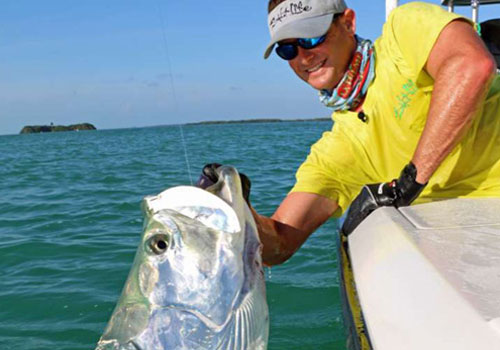 Our skilled and experienced back country captains know just where to take guests for the best backcountry fishing in Islamorada. Backcountry fishing boats are smaller, seating up to 4 guests comfortably. They usually stick closer to shore, searching and exploring the nooks and crannies of our beautiful Islamorada coast for fish such as bonefish, permit, tarpon, snook and redfish.
Meet Our Captains & Book Your Trip >
---
Offshore Captains: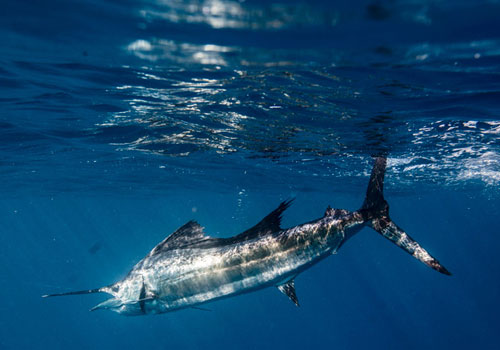 Fishing offshore in Islamorada provides unrivaled angling opportunities for our guests. When the water hits 30 meters deep, you are fishing offshore. The boats are larger, fitting up to 6 guests comfortably, and the targets are larger as well. If your heart skips a beat when you hear the words "Fish on!" you need to experience the thrill of reeling in a mahi, grouper, snapper, sailfish, marlin, tuna and more.
Meet Our Captains & Book Your Trip >Photo Credit: Kevin Dodge
---
Partyboat Captains: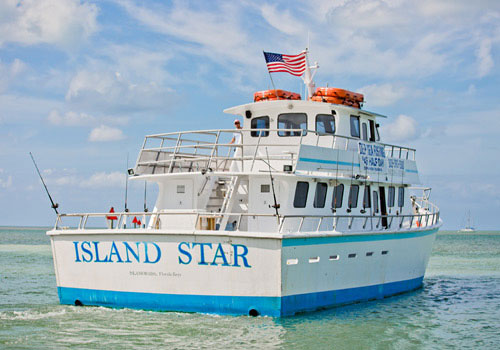 Another fishing option in our marina is the "Island Star", a 70' long by 22' wide, 74 capacity party fishing boat. Complete with a large indoor cabin for sun and weather protection, bathrooms and two amazing Captains, the Island Star can take single passengers, intimate parties or large groups out for a fun filled day of fishing on the water. The staff on the Island Star looks forward to helping create fishing memories that will last a lifetime.
Meet Our Captains & Book Your Trip >
---
Do you want to know what our captains are catching? Follow our daily fishing report:http://holidayisle.blogspot.com
No need to go to Key West Fishing or for Key West fishing charters. The marina at our Florida Keys resort started its fishing fleet in 1951. From that day forward Islamorada has been known as the Sport Fishing Capital of the World and all the Fishing Islamorada Charters became world class. These are some pictures of the marinas history.
Postcard Inn's Florida Keys marina offers the best Florida Keys fishing charters for everyone. Whether you are an amateur or a professional, Florida Keys fishing is fun and easy for the whole family to enjoy. When visiting the resort and fishing Islamorada you can experience Backcountry fishing in Islamorada at its best or Bone Fishing Florida Keys style. Experience the top Backcountry fishing and Florida Keys fishing charters year around at the resort.
Postcard Inn Marina offers Offshore fishing and Florida Keys charters. If you are looking for Florida Keys fishing charters and family fun, offshore vessels can accommodate you. The resort is known for its incredible offshore Florida Keys fishing charters at Postcard Inn Marina. From Sailfish to Mahi Mahi, fishing with our knowledgeable Captains will give you a great fishing experience in the Florida Keys.
The Postcard Inn Marina hosts some of the top Florida Keys fishing tournaments and has a Florida Keys fishing calendar for you to explore. If you are looking for Florida Keys fishing groups or Florida Keys fishing charters for tournaments, this resort has the top Florida Keys fishing Captains and vessels to make it happen.
According to the International Game Fish Association, more saltwater world records have been established in the Florida Keys than any other angling destination on the globe.
Whether it's Florida Keys fishing charters Everglades or Florida Keys deep sea Fishing charters, the family fun just doesn't stop at Postcard Inn Resort and Marina, a Florida Keys Fishing Tradition.
For more information or to reserve a trip:
Backcountry Fishing Charter Office: Offshore Fishing Charters Office:
marina@holidayisle.com offshorebooking@holidayisle.com
Direct Line: 305-433-9941 Direct Line: 305-433-9942